The HBC Guidelines
It's been a long time coming. When asking our influencers how we can help them further in creating a clearer strategy for their content creation, pricing has been almost ALWAYS the first answer.
It was a no-brainer that I would work on finding a way to create a blueprint for them.
After all, these 2,500 people trust us enough to let us guide them, it's the least we could do.
However, it was not an easy task.
Nobody likes to talk money, especially in this industry. You can find countless articles about pricing (we have a few ourselves) and even more articles about how much social influencers charge per post according to studies and research.
I could have easily pulled that data and whipped up a few options based on those. Still, that would not reflect who we are, and what we believe in as a company.
Instead, I decided to go the hard route. I took the studies, the research, the numbers and I looked at the trends, the changes and also the actual amount of work.
We stepped away from followers count and looked at engagement. We truly created something unique – not infallible by own means, but that's what I feel confident sharing with the world after four years of work in this industry.
Why now?
As a company, we are all about dialogue, transparency and better relationships between brands and influencers. These stand from a clear and honest communication, which starts first and foremost with talking about compensation and retribution.
These guidelines will be revised every six months in order to be up to speed with new technology and findings.
For brands, a press kit is a package to tell the media what they're all about. For publishers, it's a way to give potential advertisers a look at their publication, advertising rates, and ad specs.
Media Kit Templates
For influencers, a media kit is like a cross between the two.
Think of a media kit like a resume: it's your way to highlight your blog, your audience, your accomplishments, and your offerings to a potential advertiser or partner. A lot of people are now simply adding their "kit" as email copy.
As I know some of you would love some sparkling kits, we made sure we shared with you some of our favourites - media kits are not as essential as they used to, however, they still have some relevance to this date.
Personally, I believe there is still a place for media kits, despite what most people say. It really depends on the kind of collaborations you are overall looking at, as well as your previous work.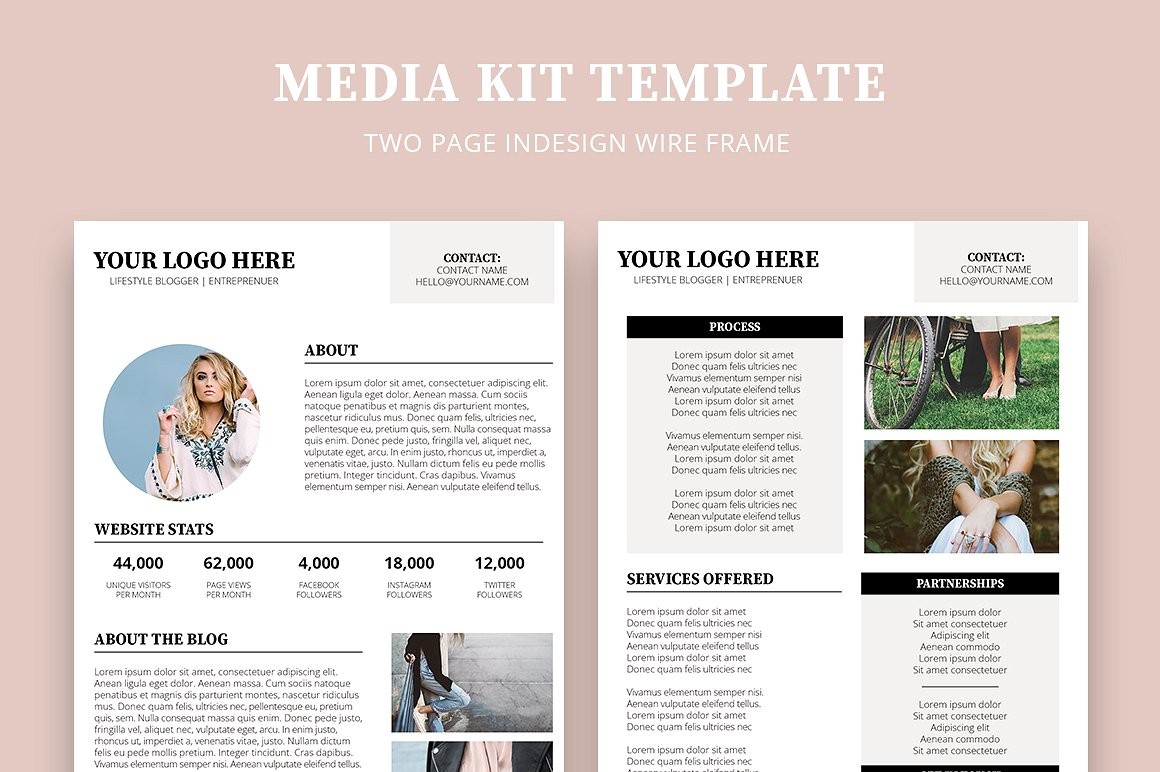 Pros: Easy to use rectangle wire frames, customisable InDesign files. Includes free fonts.
Cons: requires InDesign.
Perfectly sized for quick printing Professionally designed layouts for optimal return on investment.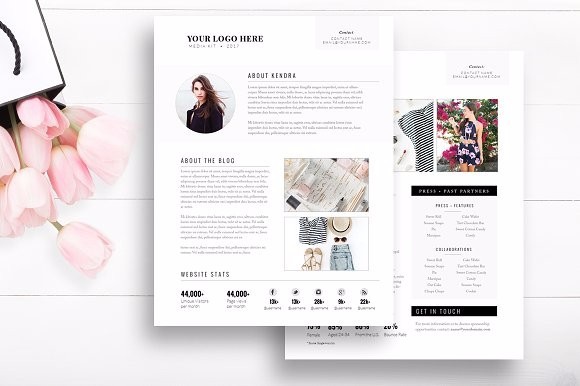 Pros: If you wish you can change colours and fonts to add your own touch to the design. Anything can be deleted if not necessary and you can also add, move, or change sections to suit your needs.
Cons: as it comes in different formats, the overall look may change depending on what you are currently using.
Word only templates
Don't want to deal with the time-consuming hassle of figuring out complicated design software?
These media kit templates are the perfect solution for the not-so-tech-savvy, and even those well versed in the latest design software.
Pros: Easier to edit for every level of proficiency.
Cons: editing and formatting may change the whole outlook of the kit.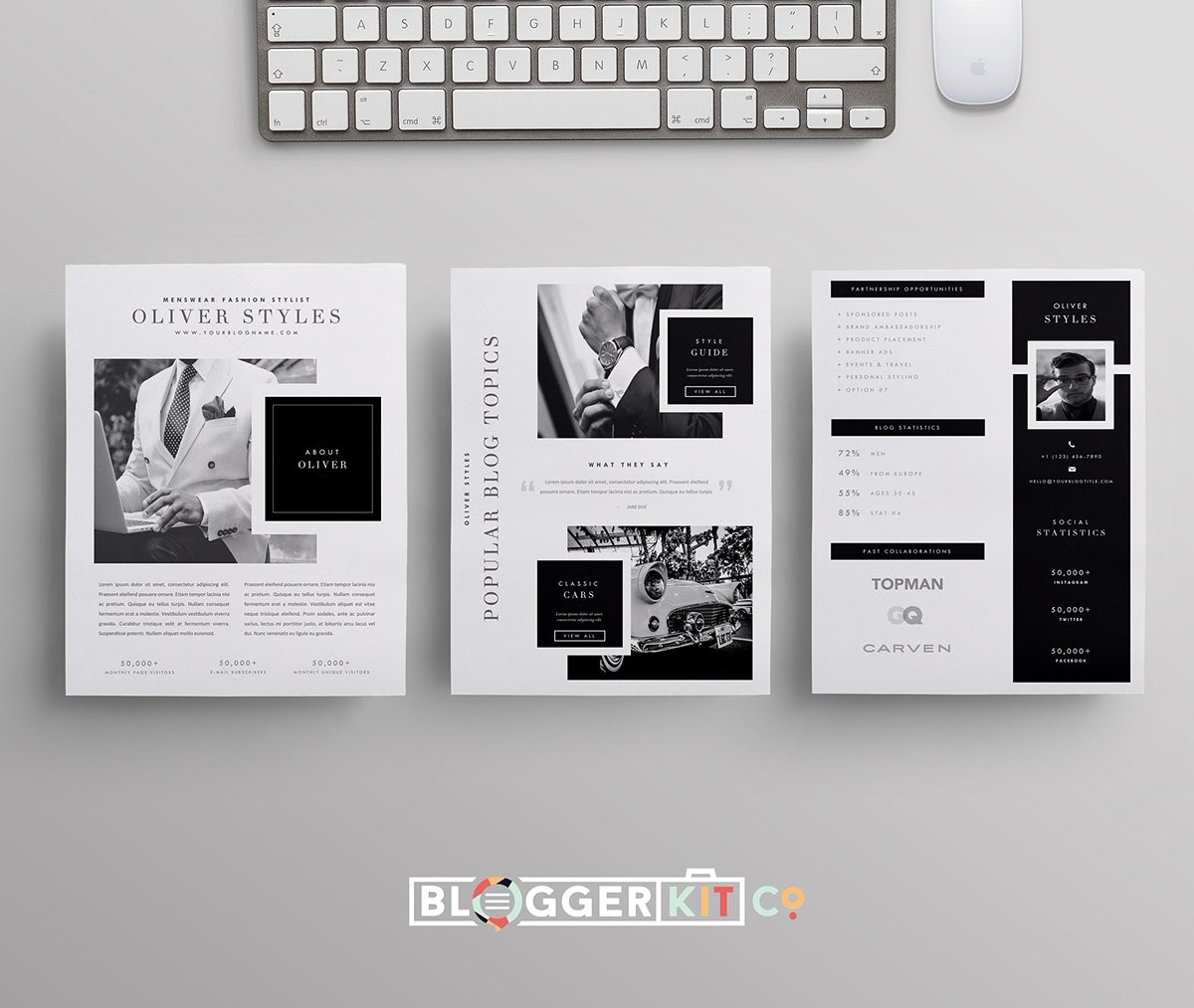 One: includes a Press Kit Template, Proposal Letter and Ad Rate Sheet.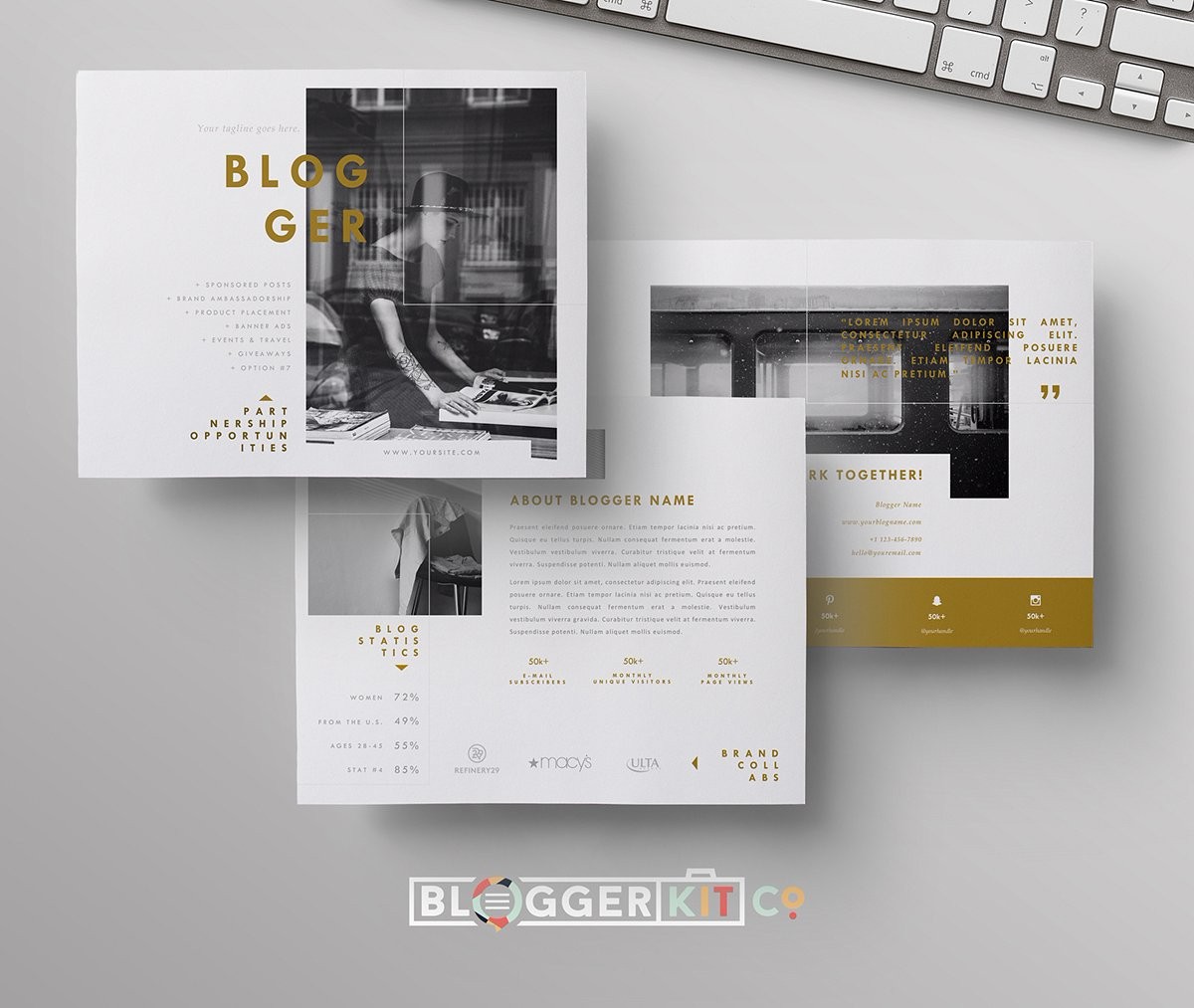 Two: Simple three page media kit, with black and white look.